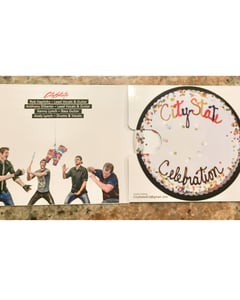 $

8.00
CELEBRATION 4 SONG ALBUM:
ABOUT CITYSTATE:
CityState is built through the combination of upbeat punk rock tones over pop rock rhythms creating an energetic and engaging sound. CityState's sound pays homage to Fall Out Boy, Story of The Year, and State Champs. The harmonizing dual vocals of Rob Kapitzky and Anthony DiSanto add a dynamic that is unique, catchy as hell, and memorable. The positive expression of DiSanto's lyrics add a fresh feel for pop punk listeners "…how it's starting to feel good. It gets better everyday. Not all who wonder are lost.".
CityState is: Rob Kapitzky – Lead Vocals & Guitar; Anthony DiSanto – Lead Vocals & Guitar; Kenny Lynch – Bass Guitar; Andy Lynch – Drums & Vocals
Celebration was recorded at Mainline Recording in 2018 & 2019.
Produced and Mixed by Eric Arena and Jeff Lynch at Mainline Recording.
Mastered by Alan Douches at West West Side Music in 2019.
© CityState 2019. All Rights reserved.
PRICE INCLUDES SHIPPING - USPS GROUND ONLY